Fostering Harmonious Co-existence and Environmental Education
EWB has broadened our scope working in close synergy with local communities so that people can peacefully coexist with critical wildlife populations today and for generations to come. Education and information plays a vital role in cultural, political, social and economic development.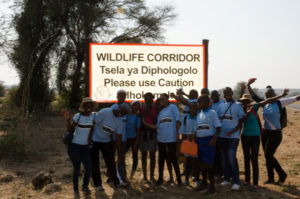 In order to create long-term and practical solutions for wildlife management and sustainable community-based strategies, it is essential that there be a fundamental understanding between local communities, researchers and decision makers. When local communities benefit from revenues generated, community support for elephants and other wildlife increases, which promotes habitat conservation and restoration of wildlife populations. By working together problems can be converted into solutions to conserve wildlife populations and simultaneously enhance the economic opportunities for rural communities.
Recently, EWB was proud to have helped organize and host "Chobe Regional Bot 50 Environmental Education & Sustainable Development Fair 2016."  Read about it in our News
What is the future of elephants outside protected areas
EWB's study on the movement of elephants in Botswana confirms that elephants spend much of their time outside protected areas and elephants are expanding their range in northern Botswana, re-occupying areas where they formerly occurred. While these unprotected lands support large numbers of elephants and other wildlife, they also support extensive human populations. It is a complex mosaic of agricultural fields, grazing lands and human settlements interspersed with diverse natural-communities, all which pose significant challenges for wildlife conservation. This mixed land-use pattern only accentuates the critical need to provide for an extensive network of wildlife corridors and to promote a sustainable management strategy for both people and wildlife, to co-exist in the same place.  
People's Perceptions and Local Support for Corridors & Co-existence
Over the last 16 years, EWB has gathered an impressive data on elephant movements, which provides important tools for better understanding the ranging behavior of elephants in the region and critical information to identify conservation corridors and important habitats. This data provides an information base to discuss elephants and wildlife management facilitate conflict resolution, in different development landscapes. Building on this research in the Chobe region, we continue to explore the dynamic relationship between humans and wildlife and how best this close interaction can be managed.
ikova: Creating a Conservation Culture
ikova is the Sesubiya word for "leaf." An individual person is like a leaf on a tree, but many together forms the canopy or community. Healthy leaves make healthy trees which create a healthy environment.  

ikova is a community initiative, stimulated and supported by EWB, yet driven by passionate members of the local villages of Kasane and Kazangula.  With a motto of "Going green,"  ikova's mission is to mentor responsible individuals towards growing a multi-dimensional "conservation culture" that aims to educate, inspire and motivate people to be passionate about wildlife, embrace nature, and encourage the community to take an active role in protecting their natural heritage.  ikova's program is a holistic, participatory approach, combining learning and action to improve environment sustainability and to empower the local community. ikova facilitates various, fun activities within and for the community, including: educational movie nights, cleanup campaigns, biking and exercise activities, tree and garden planting and wildlife excursions. You can learn more and follow ikova's activities on the Facebook page: https://www.facebook.com/gogreenconservationculture/
International Global March for Wildlife
Every year, people march in over 150+ cities throughout the world as one voice to show their support for wildlife conservation, taking part of the Global March for Elephants, Rhinos and Lions. Considering, Chobe is revered as the  "elephant mecca" on the African Continent, EWB is proud to host the parade in Kasane, however our theme "We are proud of our Natural Heritage" showcases and demonstrate to the International community, that we in the district are proud of Botswana's conservation successes.  
The parade is fun and free to the community and aims to raise awareness, involving school groups, the local communities, the Dept. of Wildlife & National Parks, the Botswana Defense Force, Law-enforcement agencies, Regional government departments, the private & business sector and all that want to participate. It finishes with a celebration of entertainment, key-note speeches, refreshments and a raffle for the community members. 
2016 was an impressive event, read all about it http://elephantswithoutborders.org/uncategorized/community-pride-wildlife-heritage-parade/