Why collar and track wildlife?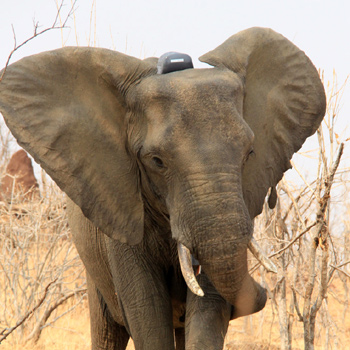 Tracking to study the spatial ecology of wildlife is an effective approach to develop novel solutions for maintaining and protecting wildlife populations and their environment. It is a tool that provides us with a baseline of information about their habitat needs, density and distribution, demography, ecology, behaviour and social organization. To date EWB has deployed state-of-the-art satellite tracking collars on more than 120 elephants in Botswana, Namibia, Zambia, and along the borders of Angola and Zimbabwe. Recently, EWB implemented the large herbivore program, deploying monitoring collars on migratory species, zebra, buffalo and wildebeest throughout the country; forest ranging species, sable and roan; and deployed collars for the first time ever on both giraffe and lechwe in Botswana.
Political boundaries, rapidly expanding human settlements, veterinary fences, farming, poaching, and civil conflict have contributed to blocking migration and dispersal routes which are essential for wildlife to access natural resources. This project made the first attempt to record and map large-scale elephant movements across the international boundaries of five African countries, and continues to do so. It now integrates other large species into the equation providing a strong, effective visual catalyst for conservation and land use management.
To learn more about specific projects:
Elephant Research
Herbivore Research
Wildlife corridors across political boundaries
EWB's research is revealing that elephants are using old pathways, and historical corridors to exploit "new lands". One example EWB has discovered pertains to Angola. The end of civil conflict in Angola has provided the requisite security for elephants to return to this previously war torn country. Elephants are trekking from northern Botswana through the Caprivi Strip into southeast Angola, where elephant numbers have increased from 36 in 2001 to over 8000 in 2007. The elephants have not returned to Botswana and are now resident in Angola, despite the many unexploded landmines. This "re-colonization" is a natural dispersal, which results in a more dynamic ebb and flow of elephant numbers within a "natural" migratory system.
Blocking elephant movements has contributed to local overpopulation or overabundance of elephants, which is today regarded as a major conservation and management challenge in southern Africa. The simple reality is that elephant densities have risen in Botswana, now there is concern about their impacts on the landscape, the viability of other species and the livelihoods and safety of people living within the elephant range. Management measures to control elephant numbers by culling have been discussed, but we believe there are other, natural solutions to release this pressure. Satellite collars on elephant are the best way to identify wildlife corridors, migration paths and vacant habitats, which could consequently alleviate the factors that increase elephant numbers and their negative impact. The collars do the long distance detective work, mapping a detailed GPS track of elephant movements.
However, there is now a critical urgency to conserve and safeguard these important identified ecological linkages elephants and other wildlife are using to emigrate between countries. If the corridors are compromised, and elephants and wildlife do not have safe passage across political boundaries, then one of the most viable and natural solutions to manage and maintain the largest elephant population on the continent will be seriously threatened.