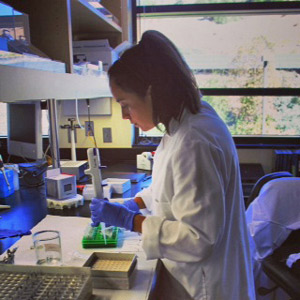 Elephants Without Borders (EWB) is committed to finding answers to challenging conservation issues. It is only by connecting elephants, wildlife, people and ecosystems through rigorous and collaborative, multi-disciplinary, long-term conservation research programs that we might begin to make a meaningful difference towards conserving Africa's biodiversity.
Thus, EWB is proud of the established "Conservation Ecology Research Station." Located in the NG26, known as the Abu concession, in the Okavango Delta, the field research camp serves as a "living laboratory", where researchers can advance the knowledge and understanding of elephants and other large herbivores, and investigate the on-going processes that are currently influencing wildlife ecology in the region.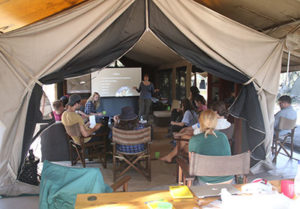 The Station is environmentally friendly, conforming to strict environmental guidelines and is fully solar powered. The Facility includes a fully functioning kitchen, large office and lounge area, dining tent, researcher accommodations with ablutions, hot water and flush toilets, a special guest tent with ensuite facilities, and staff quarters. An equipped laboratory is also, available for use.
Many research projects have been based at the camp investigating various topics such as: drivers of  spatial structuring and demography of elephants in a continuously changing environment, thermoregulation and climatic drivers of spatial use in elephants, ecology of giraffe and large herbivore populations in the delta ecosystem, monitoring elephant reproductive and physiological status, comparing stress levels in captive and wild populations, identifying endogenous elephant herpesviruses, the behavior, physiology of introduced elephants from captivity into the wild, waterbird colonies, and Botswana's first dedicated hippo studies, among others. Learn more about the researchers here.
The EWB Research Station, in the middle of a wilderness area, is essential for providing opportunities to scientists, research students and different agencies which would not have been previously available to them, and, the programs established hope to create greater coordination of research efforts for wildlife conservation and management.