Deterrence: a remedy for saving elephants from poaching?
Written By: admin on March 31, 2014
4 Comments
Gao Yufang is a graduate student at the Yale School of Forestry & Environmental Studies. From September 2012, he started working on a Master's research project about the policy process of international ivory trade, concentrating on Chinese role in this contentious issue. From May 2013 through January 2014, Gao carried out extensive fieldwork in Kenya, Hong Kong, mainland China, United States, Botswana and Tanzania. He was invited by IUCN and the Government of Botswana to participate as a Youth Ambassador in the African Elephant Summit from 2 – 4 December 2013. The following is a blog article written for Elephants Without Borders who hosted Gao's stay in Kasane in Northern Botswana.
After the African Elephant Summit in Gaborone, I decided to stay in Botswana to get a glimpse of elephant conservation in this southern Africa country. I thought this could be a supplement to my main fieldwork in East Africa. Many conservationists in Kenya had told me that the situation of elephant poaching and ivory trafficking is very different in Southern Africa. I was keen to see the differences with my own eyes. Luckily, Elephants Without Borders, a promising small conservation group, kindly offered to host my two-week stay in Botswana's northern town of Kasane.
Kasane lies at the meeting point of four countries: Botswana, Namibia, Zambia and Zimbabwe. Nearby the confluence of the two major rivers of Chobe and Zambezi, this astonishing wild place is home to one of the largest populations of African elephants on the continent. Interestingly, despite the huge elephant population, poaching remains at a low level and ivory trafficking has not yet become a threat. I was curious to know why.
During my limited time there, I held discussions with conservation practitioners, Chinese nationals, hotel managers, craft traders, tourists and ordinary local people. Many reasons for the illicit trade and poaching were brought up: some people talked about the social and political stability in this country, some mentioned the low population and economic prosperity compared with other African countries, while others tried to find answers in the history and geographic location of this nation, or the personalities of its people. Among the many factors raised, I was particularly impressed by one: people's fear of punishment.
As a local craft trader said to me, "if you are involved in these activities, the government will definitely find you and deal with you." Apparently, they were frightened by the risk of engaging in illegal activities. My local interviewees knew well that the wildlife department, in collaboration with the security, defense and police forces are strictly guarding against poaching and ivory trafficking. And, they knew that they are supposed to report to the authorities on any criminal clues they notice. This fear of punishment also spread among the Chinese nationals. My Chinese interviewees were deterred from smuggling ivory by the severe penalty which, according to them, can be as high as an expulsion from this country and confiscation of all their property here – this risk was simply too much for businessmen like them to bear, not to say that it was already rather difficult to get and maintain a work visa for Botswana.
In the past two years, I saw that international conservation community increasingly place more emphasis on deterrence as a strategy to save the African elephants. Whether deterrence will work or not depends greatly on two factors: the level and the certainty of punishment. It is for sure that the penalty should be high enough so that the risk of engaging in illegal activities exceeds the perceived profit. Equally, if not more important is a high level of certainty of punishment. This means that whoever commits a crime, there is a high probability of being caught and there is no way to get away from the penalties. If the deterrence strategy is to function well, it requires high performance in legislation, enforcement, and judiciary; it also calls for effective intelligence (ie, the reporting system in Botswana) to detect illegal activities at the first place. As well, adequate awareness-raising effort is important in that it spreads knowledge of potential risk (or in other word, spread the fear) in order to garner voluntary compliance.
But deterrence alone is not enough, and it is definitely not a long-term strategy. As the president of Botswana spoke in the African Elephant Summit, "We know that all this could change – and quickly – if incentives to poach increase, or our deterrent capacities decline".
People tend to behave in ways that they perceive will benefit them in the values they cherish. Deterrence increases the perceived risk of value deprivation: if I do something, I will lose something I care about. In contrast, incentive is about the perceived value indulgence: if I do something, I will gain something I want. Perceived value deprivation and perceived value indulgence are two sides of the equation, both of which should be attended to if we are to secure a long term success. In the value indulgence side, it is important to understand: what the incentive is, where the incentive comes from and how to decrease the incentive for poaching and ivory trafficking while increasing the incentive for conservation.
There is no panacea or simple remedy. Without changing the conditions that cause the current and potential future trends of elephant poaching and trafficking, the problem will not be resolved. To address the issue requires a contextual understanding about the players, their perspectives, and the value dynamics. On the basis of this understanding, coercive and other strategies such as economic, educational and diplomatic ones must be employed collectively. In this way, we may have a good chance of securing our common goal of a viable future for African elephants.
To learn more about Elephants Without Borders: http://www.elephantswithoutborders.org/
If you'd like to support EWB's projects: http://www.elephantswithoutborders.org/donate.php
Follow EWB on Facebook! https://www.facebook.com/elephantswithoutborders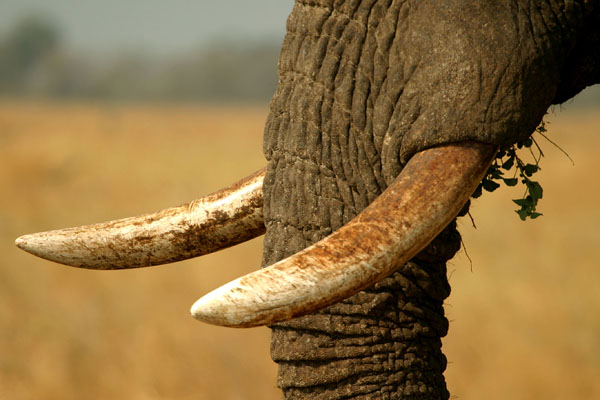 Tags: africa, botswana, China, chobe, conservation, education, elephants, ivory, people, research