Update from Tanya in the Delta
Written By: admin on July 12, 2014
One Comment
My journey in the field as an EWB researcher is quickly coming to a close as I wrap up collecting samples at EWB's Conservation Ecology Research Station. (read Tanya's blog from last season, Oh the Stress of it All!) The road ahead is riddled with writing, data analysis, and lab work. Surprisingly, my final field season in the delta has held a lot of momentous firsts!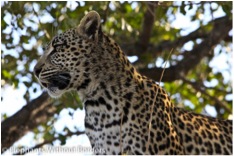 I finally stopped looking for the spotted leopard, and actually found one! (…and then another and another — funny how that happens sometimes)
I was thrilled to get the perfect shot of my favorite bird, the malachite kingfisher. They sit atop reeds in the floodplain and sway in the breeze, but they never stay for very long.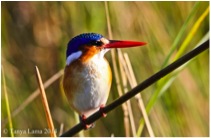 With less than three weeks remaining for me in the field, I've exceeded our quota for fecal sample collection of wild elephants in Botswana's Okavango Delta. Over 200 samples have been collected from May 2013 through July 2014, and will be analyzed for stress hormone this coming fall. The samples are processed to preserve their chemical composition, but also to meet strict USDA import guidelines against the spread of zoonotic disease.
Amidst sample collection, I'm conducting some ground-truthing of a land cover map. Basically, the landscape has been classified into different classes based on vegetation. I've been given the task of surveying over 300 locations in the delta, describing the plant species and composition at each location. It's been a learning experience! In the middle of winter, the delta can look dry and grey. Working on this leg of the project has given me a new appreciation for the incredible plant diversity here — not to mention how each species is used by wildlife and historically by humans alike. (Read about Tanya's study and other EWB elephant research)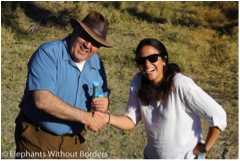 Most importantly, this trip I had the privilege of inviting my family out to the research station to take part in my field work and experience the wonders of the delta. We spent our days together watching over wild herds of elephants and collecting lots of samples. Here my dad and I are having a laugh and handing over one of the fecal samples.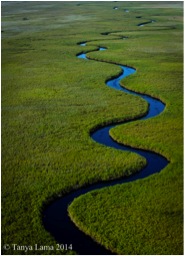 While enjoying my time at the Research Station (learn more about the Research Station) , I was very happy to hear that the Okavango Delta has been declared the 1000th World Heritage Site! Well, I can attest from my months of living out here, it certainly is a very unique and special place with incredible beauty and bountiful wildlife. It will be difficult to have to leave, but my heart as grown fond of this amazing, pristine wilderness and hope to continue my journey here further in the future….
EWB researcher, Tanya Lama is a MSc student studying at the University of Massachusetts, Amherst. Her thesis is on long-term stress in elephants and has been conducting fieldwork for the last 2 years. If you'd like to learn more about the EWB research team: http://www.elephantswithoutborders.org/research_team.php
To Learn more about Elephants Without Borders, logon to our website
Support EWB's research projects… your assistance is appreciated to help us conserve Africa's wild heritage!
Tags: Abu, africa, botswana, delta, elephants, elephants without borders, Okavango delta, research