Great Tiger Moth Botswana Safari
Written By: admin on April 30, 2011
No Comment
Rare treats come in many forms.
These last few weeks in southern Africa, recently Maun, and over the weekend in Kasane, many were lucky to watch a fleet of original, vintage de Havilland biplanes soaring overhead in formation. The planes are on a journey over parts of southern Africa called the Great Tiger Moth Botswana Safari 2011. It is a once in a lifetime opportunity for onlookers, but also for the owners and pilots of such rare antiquities. Some of the participants came from as far as the U.K. France and Australia to participate and fly over Botswana's pristene wilderness.
The de Havilland DH 82 Tiger Moth is a 1930s biplane designed by Geoffrey de Havilland and was operated by the Royal Air Force and others as a primary trainer. The Tiger Moth remained in service with the RAF until 1952 when many of the surplus aircraft entered civil operation. Many other nations used the Tiger Moth in both military and civil applications, and it remains in use as a recreational aircraft. (http://en.wikipedia.org/wiki/De_Havilland_Tiger_Moth)
This weekend the expedition team landed in Kasane to enjoy Chobe National park and surrounding areas of Victoria Falls and Livingstone before heading south again. Mr. Brett Warren, who is a friend and continuous supporter of EWB, is one of the expedition participants. Lucky for us, Mike and I were given an exhilarating rare treat to fly over Chobe National Park in true "Out of Africa" safari style.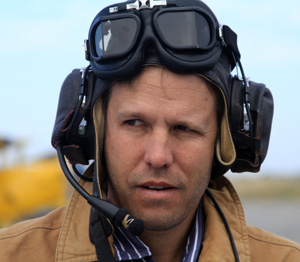 EWB often "takes to the air" on routine tracking or conducting aerial survey wildlife counts, however a flight in a Tiger Moth is a nostalgic thrill of note. (read about these endeavors at http://www.elephantswithoutborders.org/surveys.php)
On the participants last evening in Kasane, we were proud to be invited to join the group for an informal presentation and dinner to talk about our work, elephants and wildlife conservation. (see http://tigermothbotswanasafari.yolasite.com/blog—vic-falls-to-polekwane.php)
We would like to sincerely Thank Brett for his continued generosity towards Elephants Without Borders conservation endeavors and for the wonderful experience he has shared with us! We wish you, Stan and all the participants a wonderful, safe continuation of your Botswana journey! We hope to see all of you again on another expedition.
Wonderful photos and stories of the expedition are posted on their website.  If you would like to learn more about the Great Tiger Moth Botswana Safari 2011, log on to their website at http://tigermothbotswanasafari.yolasite.com/
If you would like to support EWB's conservation projects: http://www.elephantswithoutborders.org/donate.php
Tags: africa, botswana, chobe, conservation, elephants, elephants without borders, research, tiger moth, wildlife