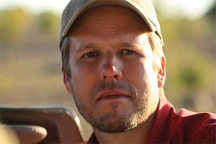 Mike Chase (PhD), Director/Founder
Botswana born, Mike Chase, (PhD), has been studying the ecology of elephants since 2001 and was the first Motswana to receive his doctorate specifically in elephant ecology. Much of his childhood was spent in the bush accompanying his father on safaris. Eager to conserve Africa's wildlife and wild places, Chase embarked on an academic career in conservation ecology. After earning a bachelor's and master's degree from the University of Natal, he returned home to Botswana, where he spent eight years with a large NGO working to conserve the Okavango Delta and its rich wildlife. It was his passion for elephants, which ultimately led him to start an ambitious study on the ecology and movements of elephants. He received his PhD from the University of Massachusetts in natural resources and wildlife conservation. During his studies, he founded Elephants without Borders to continue his lifelong endeavour. In 2015, MIke bestowed the "Presidential Order of Meritorious Service Award" by Botswana's President, His Excellency S.K.I. Khama for exceptional service to the country and conservation efforts. He has provided new data on the status of elephants and other wildlife identified cross-border corridors, discovered new migration routes and has published his work in scientific journals, magazines and news articles. Mike conceptualized and was the Principal Investigator, leading the massive initiative Great Elephant Census.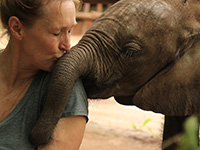 Kelly Landen, Administrator/Co-Founder
Kelly joined Mike on the project in early 2003, together they co-founded and built EWB into a successful operating organization. Her enthusiasm for wildlife inspired her to a dedicated career in conservation. She began as a volunteer, monitoring and collecting data on a variety of wildlife species for several conservation projects, as well as, worked as a naturalist/field guide in Alaska, Central America, and South America. She spent many years working on the oceans for the UNOLS fleet of oceanographic research vessels, before setting roots in Botswana. Kelly oversees all aspects of EWB's operations, including the environmental education and elephant orphanage programs, and participates in much of the fieldwork. She is a professional photographer and her work has been featured in a number of prestigious magazines, web sites, scientific publications and journals and news articles.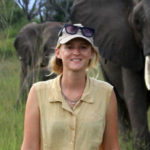 Tempe Adams (PhD), CoExistence and Education Coordinator
Tempe came to EWB as a PhD candidate from the University of New South Wales investigating human-elephant conflict and co-existence, focusing on elephant and wildlife's use of small-scale corridors in an urban landscape and their adaption to increasing development. She completed her PhD in 2016, her thesis entitled "How Can Humans and Elephants Co-Exist in Botswana?" at the University of New South Wales, Centre for Ecosystem Science and Evolution Research Centre, and had already published in scientific journals upon its completion. Tempe assists in all aspects of EWB"s programs, but her primary focus is EWB's community co-existence program and extended her research to focus on data to be integrated into informed land-use management. She is very passionate and proud to work with the local farmers and communities and her dedication is key to our successful EleSenses mitigation program.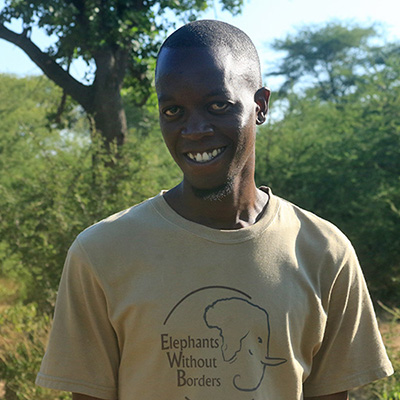 Isaiah "Izzy" Mwezi, Programs Assistant/Coexistence Leader
Izzy comes from the small village of Kavimba in Chobe, the home of Basubia tribe in Botswana. He was first hired as a field assistant, working in the Chobe Enclave villages as part of EWB's mitigation and co-existence projects. However, quickly his varied talents were obvious, so we are pleased he has joined us full-time to assist in other aspects of our initiatives. Gratefully, he is always eager to help out with the elephant calves at the orphanage, when needed. Chobe is home to Africa's largest elephant population and Izzy says "growing up around these giants has, with time, created my passion for wildlife in general, which motivated my interest in joining the team at EWB," "Re a Somarela we Conserve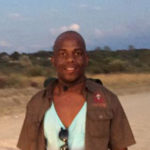 Thato Tsheko , Education Coordinator

Thato joined the EWB team to take the lead in implementing environmental education programs for both students and the local communities. We have collaborated with Thato on past initiatives, as the Walk for Eco-literacy and other District school functions, thus confident in his leadership skills, background experience and passion for teaching which has helped culminate EWB's successful environmental education programs and cultural awareness activities.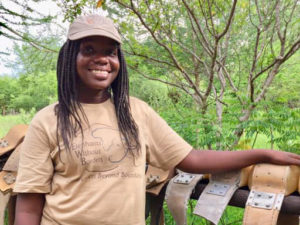 Providence Mwezi Ndana, Administrative Assistant/Education Officer

Kim has a Bachelor degree in teaching from the University of Botswana, with an emphasis on Special Education. She has worked in the public school system and volunteered for BOFWA (family planning) and OVC (Orphan & Vulnerable Children project.) Her skill set is a welcomed asset to our educational programmes. "Chobe is my home. It's beauty is not only in its people, but its wildlife & natural resources. I want nothing more than for this place to continue being magical and natural as possible."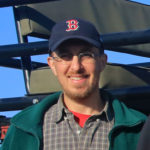 Scott Schlossberg, Scientific Data Research Fellow
Scott is a consultant that has taken a lead on EWB's technical analysis of the massive data bank EWB has been accumulating from our ongoing wildlife monitoring projects, compiling data and conducts statistical analysis. He has been instrumental on the Great Elephant Census and created new data analysis techniques and distribution maps to estimate the abundance and geographical distribution of the Continent's savannah elephants.
EWB's Researchers (click here)
EWB's Elephant Caretakers (click here)
Field Support
EWB's field support & staff have many years of varied bush experience. They are vital to the success of our operations and ensure comfort and security while operating in very remote areas, often under difficult conditions.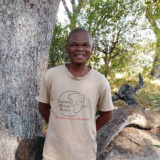 Gagoope Tsukotsuko oversees the EWB Conservation Ecology Research Station. As a San, he adds a wealth of local knowledge, being comfortable in the bush for months on end. And despite his quiet yet personable demeanour, Gao manages to keep the station functioning in a professional, orderly manner.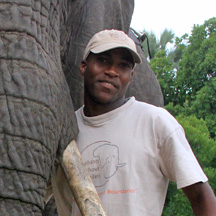 Kabo Kakana comes from Kazangula, the 4-country border town, where EWB has their offices. He brings enthusiasm to our programs, eager to participate and learn about conservation. He especially enjoys his time in the delta at the Research Station. Presently, Kabo is helping recruit and a leader in our team of Elephant orphan Caretakers.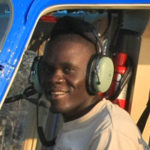 Shoni Nyoni came to EWB from Zimbabwe as an experienced farmer wanting to help in addressing escalating human-elephant conflict, so joined us to participate with our conservation and community outreach. Since then he has become an essential part of the team assisting in all the field projects when necessary. Shoni is also very attentive to the calves in the orphanage and helps train incoming Elephant Caretakers.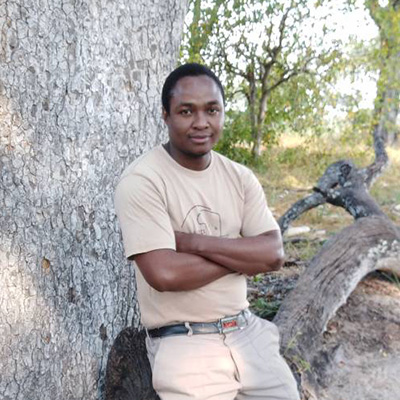 Keboditse "CK" Mboroma, "CK" comes from the Beetsha village and is a Hambushu. He has worked as a field-assistant at EWB's Conservation Ecology Research Station in NG26, since early 2017. Prior to this, he worked as a camp hand for John Chase Safaris on mobile safaris. CK assists the researchers conducting their studies in the field, knowing the concession like the "back of his hand" and ensures their safety. He finds the research intriguing and loves to learn about the projects.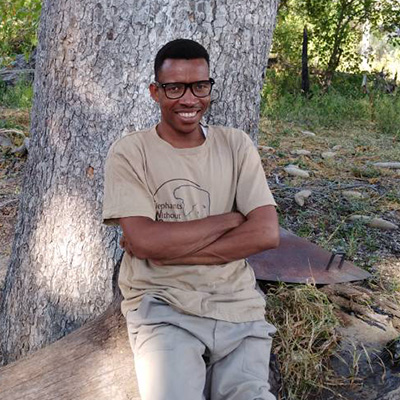 Oneilwe "O'Neail" Ketshabile is the newest addition to EWB's Research Station team, having started in November 2017. Despite being a short time with us, O'Neil has honed his skills in the field and enjoys the variety of wildlife that come through camp. He previously worked as a camp driver for SKL Safaris. O'Neil is a Mosarwa (bushman) from Shakawe village.
Expertise Support: Pilots and Wildlife Veterinarians
EWB owes a considerable debt of gratitude to the many wildlife vets and pilots, both fixed-wing and helicopter, who work with us on all of our field projects, including: wildlife rescue, aerial surveys, wildlife monitoring & tracking,  and at the Kasane Intensive Care Unit for elephant orphans.
Wildlife Veterinarians: Dr. Larry Patterson, Dr. Rob Jackson, Dr. Mark Bing, Dr. Caron Botes, Dr. Johanne Marais, Roger Parry and Liz O'Brien. 
Fixed wing pilots: Tammi McAllister, Mike Holding (Afriscreen Productions), Alexis Peltier (Air Adventures), Sven Bourquin, Jonathon Lea, and Alan Parnass (Wings for Wildlife)
Helicopter pilots: Andrew Baker and Michael Drager (Helicopter Horizons), Mogomotse Gaebepe (Pyrus Eagles), Peter Perlstein (Okavango Helicopter)