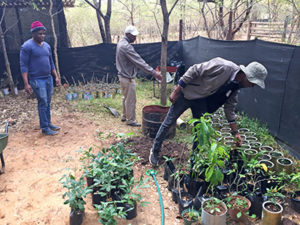 By Fostering Forests, we also foster budding conservationists. Stemming from EWB's environmental education program, our Foster a Forest initiative is blossoming through the Environmental Education clubs in schools and youth programs across Chobe District. Our education team provides lectures, discussions and activities emphasizing the importance of trees, clean air, climate change, bush fires, types of indigenous trees and the ecosystem functions between trees, elephants and other species.
Indigenous tree nurseries have been started at the learning institutions and at EWB's office headquarters. The EWB orphan elephants take a role in providing compost made from dung and recycled milk tins to plant seedlings in!
Our goal is to help reforest and restore riparian and wetland habitats, where possible in Chobe, while providing students with valuable hands-on experiences to better understand the environment they live in. As students plant and watch their own trees grow, it gives them a connection and ownership over the responsibility to protect their forests.
We are very proud and pleased that our initial first large tree-planting event was a wonderful success with students, teachers and youth participating from every learning institution across Chobe District. To help inspire us all, we were joined by a dedicated conservationist, HRH, Prince Harry, the Duke of Sussex. Please click news here for more info and photos!